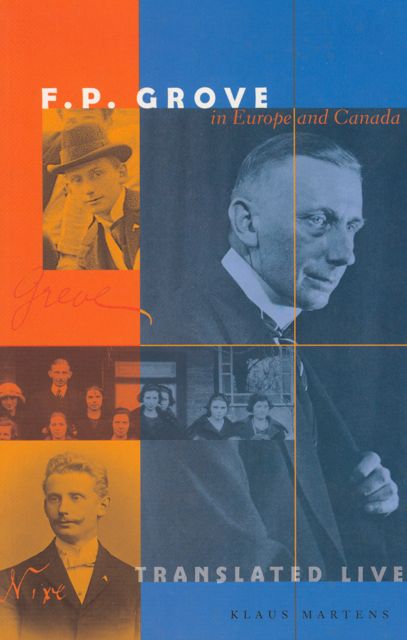 Editions:
Paperback

-

University of Alberta Press

:

$ 34,95

ISBN:

9780888643643

Size:

6,00

x

8,90

in

Pages:

384
Originally published as Felix Paul Greves Karriere: Frederick Philip Grove in Deutschland, this volume reveals the previously unknown life of Canadian author F.P. Grove. Prior to his arrival in Canada, Grove was a widely known-and somewhat outrageous-editor, writer, translator, and literary personality in Europe. In his new land, however, he completely remade himself, extinguishing all traces of his prior life. An illuminating biography of a significant Canadian author.
Reviews:
Irene Gammel

schreibt:
"Grove's life is a brilliant work of fiction. F.P. Grove in Europe and Canada presents an exciting new study of the enigmatic author. The book is remarkably rich in detail and indispensable to Canadian Studies."
Eric Miller

bei

Books in Canada

schreibt:
"Martens's biography is exemplary and Canadian in impulse to the degree that it hypothesizes a continuum even as it demonstrates with aplomb a history of dereliction, severance, oblivion and repudiation. Martens's copious array of illustrations documents Herr Felix Paul Greve and Mr. Frederick Philip Grove alike—their identity and their disunity, their broken and intersecting worlds, each with its own perishable, memorable personnel."
Helmut Schwarzer

bei

Yankee Book Peddler

schreibt:
"I used to be familiar with his name (F.P. Greve) ever since I was a young bookseller in the Germany of the late 50s/early 60s. Of course, all one knew then was that he disappeared or died in 1909... It's truly one of the more amazing literary detective stories of our time. It's also an interesting tie-in with the biography of Grove's intimate friend, Baroness Elsa, who moved on to become the arch-priestess of New York DADA."
Richard Cavell

bei

International Canadian Studies Centre, University of British Columbia

schreibt:
"Taking as its focus Felix Paul Greve, it reveals through painstaking research in archives around the world the 'hidden' dimension of a life that had, until Martens' book, continued to remain a mystery.... F.P. Grove in Europe and Canada is a stellar piece of research."
Catherine Gide

schreibt:
"Votre nouveau livre a l'air tout à fait passionnant!"
Irene Gammel

bei

Great Plains Quarterly, Fall 2002

schreibt:
"In this richly detailed new biography, Klaus Martens explores Grove's German origins with meticulous detective work.. The tale is riveting, with numerous peaks and highlights.. Not only is this biography meticulously researched, it is fun to read, as Martens explores Grove's life and work with sympathy and irony."
Lisa Salem-Wiseman

bei

Literary Review of Canada

schreibt:
"Those who argue that Canadian literary history is boring, provincial and lacking in colourful personalities would do well to consider the case of Frederick Philip Grove....One of the most intriguing aspects of this book is its least scholarly: Martens's frequent speculations and hypotheses about the significance of Greve's life in the context of European art and letters....Martens's work is the first that, as its title suggests, provides a sustained examination of both Felix Paul Greve, the German translator, and Frederick Philip Grove, the Canadian author, and explores the interplay between the two not-entirely-separate lives and works....(A)n important addition to academic work on Greve/Grove."
Neil Querengesser

bei

Concordia University College of Alberta, Canadian Ethnic Studies

schreibt:
"...a scholarly work of exceptional depth and detail..For while he gives us a scholarly biography of the first rank, Martens remains aware that fiction can sometimes illuminate reality as much as the facts, particularly when that fiction comes from such a talented fabulist and translator as FPG." , (Concordia University College of Alberta, Canadian Ethnic Studies, Vol. XXXIV, No. 2, 2002)